Review: Spell Bound by Rachel Hawkins
Title: Spell Bound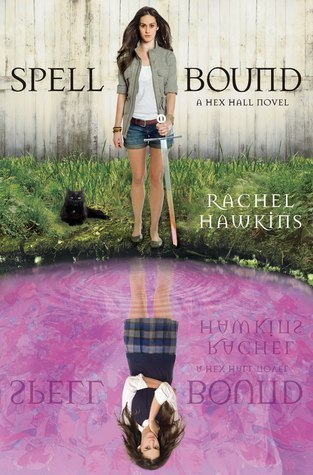 Author: Rachel Hawkins
Series: Hex Hall #3
Rating: 3 Stars
327 pages
Published March 13th 2012 by Disney Hyperion
Received as a gift

Spell Bound is a decent ending to the Hex Hall trilogy. This series combines light-hearted humour with a fresh take on the magic boarding school trope.
After the happenings in Demonglass, Sophia needs some time to recuperate. She teams up with unlikely allies, and together they fight to ensure safety for all Progidium.
There is a lot of ground to cover in Spell Bound, and plot developments are thrown at the reader rapidly. Ms Hawkins didn't fall into the common trap of making the last book in the series a beast with double the word count of the other books in the series. However, neither did she manage to smooth out the story in such a way that it comfortably fits in the length of Spell Bound. The plot felt rather ill-paced, dwelling too long in some places, and not standing still long enough in others.
This also had repercussions for the characterisation. I always liked Sophia in the other Hex Hall books, but her personality is lacking in Spell Bound. It's only rarely that she has time to shine, and her humour often seems at odds with the darkness of the plot. At one point, teens are forced to torture another teen, who is brought back to life again and again for more torture, yet this is brushed off as only merely being unpleasant.
The love triangle between Sophia, Call, and Daniel that was introduced in Demonglass gains a resolution in Spell Bound. There was some going back and forth that I found to be out of character. It didn't annoy me enough to make me feel irritated by the book, but it did seem unnecessary. There were some touching moments between the two pairs, but not enough to make me root one way or another.
Spell Bound is an easy read, and the final face-off between the evil enemies was fun. Because of the less-than-stellar plotting Spell Bound is the weakest book in the Hex Hall series, I'm left with a general feeling of satisfaction. I found the light tone to be at odds with the teens-torturing-other-teens and death threats and the like, but overall I had a pleasant evening with Spell Bound.
Just as Sophie Mercer has come to accept her extraordinary magical powers as a demon, the Prodigium Council strips them away. Now Sophie is defenseless, alone, and at the mercy of her sworn enemies—the Brannicks, a family of warrior women who hunt down the Prodigium. Or at least that's what Sophie thinks, until she makes a surprising discovery. The Brannicks know an epic war is coming, and they believe Sophie is the only one powerful enough to stop the world from ending. But without her magic, Sophie isn't as confident.

Sophie's bound for one hell of a ride—can she get her powers back before it's too late?
Other reviews you might be interested in
Other books in this series
Spell Bound
‹ Interview with Julie Wassmer (Murder-on-Sea) The Sunday Post 04/10/15 ›