Review: Down With the Shine by Kate Karyus Quinn
Title: Down With the Shine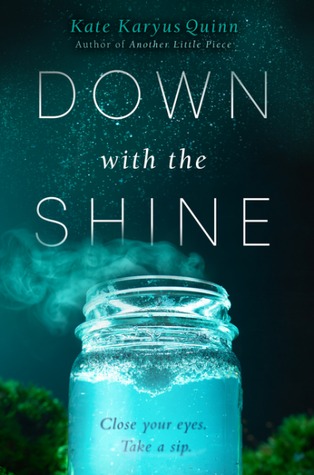 Author: Kate Karyus Quinn
Series: Standalone
Rating: 4 Stars
355 pages
Expected publication April 26th 2016 by HarperTeen
Review copy received from the publisher

Kate Karyus Quinn not only has a fantastic imagination, but also the skills to translate that onto the page.
Everyone knows Lennie's name. After her criminal father killed a few people during a heist and got away with it, it's hard to just live your life; which is exactly what Lennie wants. There are more secrets in her family – including the fact that she can grant wishes. Which her uncles did not tell her. And now she has granted a dozen wishes to drunk teenagers by accident. Whoops.
I have been hooked on Quinn's books from the moment I read (Don't You) Forget About Me. Her stories are fantastic, nostalgic, and always resonate with me. Down With the Shine has plenty of moments that will break your heart, but overall I found the tone to be relatively light and humorous. Much of what happens is absolutely absurd and Lennie's adventure made me think of a teen Alice in Wonderland. Granting all those wishes has led Lennie down the rabbit hole, and will she ever return to normalcy?
The author does voice very well, and Lennie was realistic and relatable throughout all the madness that is thrown her way. Down With the Shine has a cute hate/love interest and I enjoyed their permanent banter. I mention this in my reviews quite often, but no sweeping declarations of eternal love here. Just two teenagers having a crush on each other, and both not ready to admit it yet.
My only issue with the book is that at some point it tried to tie together too many storylines. Though it never got to the point where it got confusing, I did not feel invested in all aspects of the story, most notably that related to Lennie's father. I can't pin-point the exact reason I did not care for that part. Maybe it was one step too far? Maybe that storyline was not set up enough? It wasn't a large issue, but it did temper my excitement for this novel a bit.
Overall Down With the Shine is a great novel of wonkiness and awkward teens being awkward teens and family members that are never exactly who you expected them to be.
There's a reason they say "be careful what you wish for." Just ask the girl who wished to be thinner and ended up smaller than Thumbelina, or the boy who asked for "balls of steel" and got them-literally. And never wish for your party to go on forever. Not unless you want your guests to be struck down by debilitating pain if they try to leave.

These are things Lennie only learns when it's too late-after she brings some of her uncles' moonshine to a party and toasts to dozens of wishes, including a big wish of her own: to bring back her best friend, Dylan, who was abducted and murdered six months ago.

Lennie didn't mean to cause so much chaos. She always thought her uncles' moonshine toast was just a tradition. And when they talked about carrying on their "important family legacy," she thought they meant good old-fashioned bootlegging.

As it turns out, they meant granting wishes. And Lennie has just granted more in one night than her uncles would grant in a year.

Now she has to find a way to undo the damage. But once granted, a wish can't be unmade…
Other reviews you might be interested in
‹ Happy 6th Birthday, Nyx Book Reviews Looking for Recommendations: Quick Reads ›