Once Upon A Readathon: Goals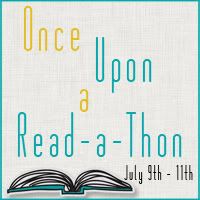 Hi guys! I decided to join the readathon hosted by Candace @ Candace's Book Blog, Lori @ Pure Imagination and Angela @ Reading Angel. They're all fantasic bloggers, go check them out!
I really, really need to get some reading done. I feel like I've been incredibly lazy the last few weeks in the reading department. Looking at my statistics on Goodreads tells me I'm actually doing quite all right, but I prefer to be ahead of my yearly goal. Even though the readathon starts today, you can still sign up over here.
As for my goals the upcoming three days, I will be trying for two books. If I could get through three that would be amazing, but I'm afraid that might be pushing it too far (:
Here's the list (link goes to Goodreads):