Nyx at Night Review: Asylum by Madeleine Roux
Title: Asylum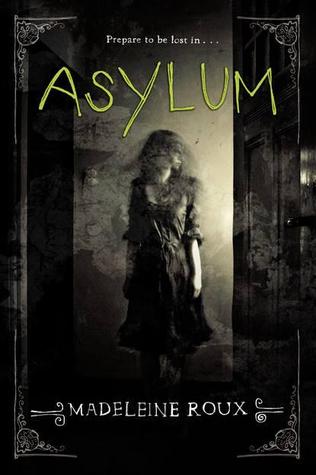 Author: Madeleine Roux
Series: Asylum #1
Rating: 3.5 Stars Stars
313 pages
Published August 20th 2013 by HarperTeen
Bought

Everything about Asylum screams creepy. The title, the disturbing cover, the pictures inside. It's good for some classic scares, but falls short in the characterisation department.
Dan is excited to be going to a summer program filled with exciting courses and like-minded students. The dormitories are in an old sanatorium, and together with his new-found friends, Abby and Jordan, he finds out that there are plenty of secrets in the asylum.
The set-up for Asylum is very archetypical for a horror story. Night-time explorations: check. Creepy happenings: check. Inexplicable notes and thoughts: check. Disturbing experiments: check. I have to admit that Asylum definitely worked its job on me. I read it at night while my boyfriend was asleep, and it was pretty scary. It wasn't completely comfortable to read it in the dark.
Dan is supposed to be sixteen years old, but he and the other main characters read more like they're fourteen-ish. The book is narrated through Dan's eyes, and the story unfolds his own connection with the asylum. Ms Roux goes for a King-eske evil that lumbers within the asylum, influencing the students. Although I really enjoyed this concept, the execution wasn't satisfactory. It's hard to connect to Dan, of whom we only get glimpses of his inner life. I would have enjoyed the book more if we had dug into his psyche, really see all of the consequences being in the asylum has for him. Sadly all interaction of the reader with the characters stay superficial, and it's hard to truly care for their plight.
Asylum provides solid horror vibes and cool artwork, but doesn't go beyond that. It doesn't have the amount of introspection other young-adult books display, and leaves many questions open for the second book in the series.
For sixteen-year-old Dan Crawford, New Hampshire College Prep is more than a summer program—it's a lifeline. An outcast at his high school, Dan is excited to finally make some friends in his last summer before college. But when he arrives at the program, Dan learns that his dorm for the summer used to be a sanatorium, more commonly known as an asylum. And not just any asylum—a last resort for the criminally insane.
As Dan and his new friends, Abby and Jordan, explore the hidden recesses of their creepy summer home, they soon discover it's no coincidence that the three of them ended up here. Because the asylum holds the key to a terrifying past. And there are some secrets that refuse to stay buried.
Featuring found photos of unsettling history and real abandoned asylums and filled with chilling mystery and page-turning suspense, Madeleine Roux's teen debut, Asylum, is a horror story that treads the line between genius and insanity.
Other reviews you might be interested in
‹ Horror by the Master of Horror – The Scariest Stephen King Books A Cauldron of Witches – Some Hexingly Good Reads (Nyx at Night) ›