Guest Post & Giveaway: Sam Starbuck (The City War)
The City War Book Tour, hosted by the people from Riptide Publishing. Author Sam Starbuck has a very interesting guest post for you guys about how he writes. Make sure to leave him a comment, since you can win $10 store credit from Riptide! If you'd like to find out more about the tour, check out the tour page. You can also learn more about Sam's book on Goodreads.
Hello everyone! I'm guest blogging here at Nyx Book Reviews today, and they're kindly letting me post here for the final installment of my blog tour for The City War!
Over the course of the tour I've talked a lot about the philosophy of writing, both in general and mine in specific, but I haven't talked much about the process, so today I wanted to discuss how I write and how I measure the results. To thank you all for reading, I'm offering a chance to win $10 in credit with Riptide Publishing; every comment you leave on the post today enters you to win!
I've spent a long time studying and working in the arts, first in theatre and then in literature. One thing I definitely learned early on was that everyone has their own creative process, and what works for you or me may not work for anyone else. Anyone telling you different is probably trying to sell you something.
But because of that, I always find it interesting to read how other writers work and to share my own experience. You take a little here, a little there, and you find something that works for you.
Like most writers, I have a day job. Mine occasionally requires long, intense periods of concentration, but between those times I'm essentially on call, available if needed and otherwise at my leisure. It's a good situation; it gives me time to write at work, and writing makes you look like you're working, more than playing Solitaire or surfing the internet does. But I find my weekends are when I really get important stuff done: me, my favorite chair, my laptop, and a bottle of water is the most ideal place not just to write but to exist. I love writing, and couldn't stop the one occasion I tried to. Writing is my favorite place to be.
I'm lucky that I rarely struggle with writer's block, but part of the reason is that I've put up a partition between writer and critic. National Novel Writing Month is famous for the idea that it's okay if it's not good as long as you keep writing, and that's an uncomfortable truth that I think a lot of people struggle with. Building that wall is important for two reasons.
1. When you're writing you have very little distance, and you may not actually know what's good and what's not.
2. You can always fix it later, and that's much, much less work.
Most of the time when I sit down to write I have only a very hazy framework of where I'm going or what's going to happen next. Some people need or want outlines, but I've never been able to stick to them because the story often takes a different turn, and then I'm out whatever time it took to carefully construct that framework. But good books don't come straight from a writer's hands to your eyeballs. Good books generally come from rewriting decent books that themselves came from rewrites of bad ones. Usually there's an editor in there somewhere too, giving a much-needed outside view. I try not to worry about the finished product, because that's my editor's problem. I just give them my best and let them tell me which parts still need more "best".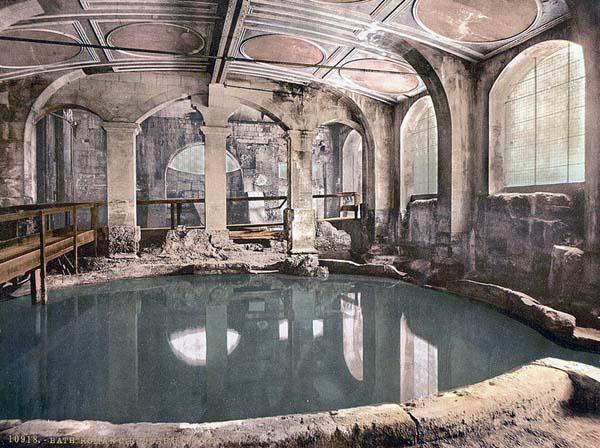 When I was writing The City War, there were times I could have stopped and gotten lost in research for a few hours. Roman bath architecture played a major role in a single scene, but the dialogue, the politics within the scene, was what I really needed to get down, that's what actually moved the story forward. So I wrote the dialogue, with some generic background noise, and then when the story was done I could tell exactly how much specific background needed to replace the generic.
Brutus followed him to the door leading from the tepidarium to the caldarium, and a few feet into the corridor. They had a clear view of both doorways from here, and Diocles turned back when Brutus rested a hand on his shoulder. Brutus bent to speak in Diocles's ear, chin brushing his temple.
"You know the temper of the city," he said quietly. "You know what the Senate thinks, down to the last man. The last who matters, anyway. You can tell me who feels as we do."
Learning about Roman baths was entertaining and educational, but it had to wait on the story, because it was an enhancement rather than the core.
So all the tips and tricks of writing, all the lists of ways to write and essays about creativity, I think they're all basically decoration of a single concept: disengage the critic until you're done. Done is important; rewriting a finished story is half the work for twice the result.
This is the end of my blog tour, and I hope those of you who've been reading along, and those of you who've read today's, have enjoyed it. It's been fun speaking to you as a writer and as a reader, and I hope you'll look over Riptide's offerings after all this — there's a lot of great work there, and the editors have certainly made a difference for my book, as I'm sure they have for others.
Sam Starbuck is a novelist and blogger living in Chicago because he enjoys trains, snow, and political scandals. By day, he manages operations for a research department at a large not-for-profit, and by night he is a pop-culture commentator, experimental cook, advocate for philanthropy, and writer of fiction. He holds two degrees in theatre, which haven't done much for his career but were fun while they lasted. His love of ancient cultures and art crimes makes him a very strange conversationalist at parties. His novels include Nameless, Charitable Getting, and Trace, published independently, and The City War, published with Riptide Publishing. He blogs here, and you can check out his writerly accomplishments here.
‹ 2012 Reading Challenges: The Final Tally This Week's New Books ›