#SKweek Reading and Watching IT + Giveaway (by Ciska)
The sewer was never the same!
A guest post kindly provided by Ciska from Ciska's Book Chest
As most of you I was that kid that came in the library at least two times a week to change my books. As I come from a fairly small village I was done with the children's book at some point and lurking in the adult section. I was just about the right size to be confronted with the K shelf in a corner where the librarians could not see me very well. On those shelves there was this wonder going on. There was a writer named KING and he wrote BIG books. I was impressed and knew I wanted to read them. But the adult section and 10 year old Ciska was a no go. Not yet…
When I turned 11 the librarians noticed that I kept returning to the same books and was getting bored. They gave me a form which my mym had to fill out to allow me to go to the adult section and she signed it. The first thing I did was run down the K to get one of those King books. I started with a small one Pet Sematary or in Dutch Dodenwake which with only 368 pages was a big book for me at that time but still something I could comprehend. Obviously the book was disgustingly scary and I loved it so the next time I returned I decided to pick that big one with that weird title. With over 500 pages this was getting impressive and I felt shivers down my spine checking out IT or Het in Dutch.
It was the biggest book I ever checked out in my experience, I am still not sure if it was really but that was how it felt. Looking back now I can say that I did not grasp the whole horror behind the book. My imagination was not ready or developed enough (or maybe I lack some) to make the book really scary. Or at least not as scary as this story became later. I remember I loved reading it. George ending up in the sewer and all the scary things happening to him. The clown was something to laugh about, he was scary obviously but in my head he was like every clown I saw in the circus with a nasty attitude. I read all the Kings they had in the library but IT was one of my favorites. Besides it being horror it made me laugh. Lets face it, a clown spying on people and stuff how scary can it really be?
When I was 12 my older brother decided to have a horror movie night (You can tell where this is heading right) and my mum had a few rules and one of them was that if he was to have movie night in our house I was allowed to join him and his friends. He was even so nice to ask me what movie I wanted to watch and I did not have to think for a minute. I wish I did because I regretted it for almost 18 years.
I watched IT sitting on the couch more or less and I could not stop staring at the TV. This was not at all as I had imagined IT. This could not be real. And while my brother and his friends where laughing their heads of the image of Pennywise slowly settled itself in my head not to leave me for a long time. It took me a while to get over this… like 18 years before I decided to watch the movie again. Now I know why my brother and his friends laughed because I was so much better in giving things a place. But I will admit I had recurring dreams where an orange haired clown like thing played a part at least twice a year until that rewatch.
This also made me realize that there is actually an age for certain books. I was way to innocent when I was reading this book I was simply not having enough imagination to make it this scary. After seeing the movie I was actually to scared to revisit this book. Realizing I had to do something about this new scare, I was never scared of clowns before, I rewatched the movie a few years ago. I laughed and it was hilarious (though it still gave me pleasant creeps) and now I cannot wait to reread the book and use my adult imagination combined with images of the movie.
Giveaway Time!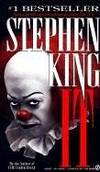 To enter this giveaway provided by Ciska, simply fill in the Rafflecopter below! Open for all international participants as long as The Book Depository ships to you.
‹ #SKweek Review: Joyland by Stephen King #SKweek Where to Start Reading? ›