Review: This Monstrous Thing by Mackenzie Lee
Title: This Monstrous Thing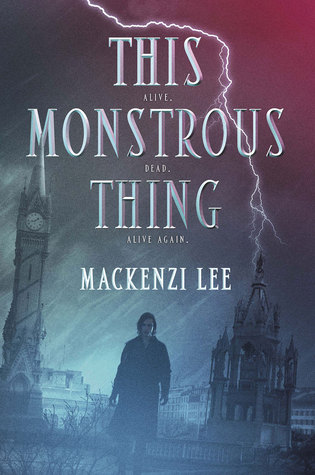 Author: Mackenzie Lee
Series: Standalone
Rating: 3 Stars
384 pages
Expected publication September 22nd 2015 by Katherine Tegen Books
Review copy received from the publisher

I enjoyed this steampunk rendition of Frankenstein, but ultimately the story left me as cold as the monster's corpse.
Alasdair Finch is a Shadow Boy. He knows how to use clockwork parts to make mechanical limbs for people. When his brother dies, he does the incredible – he brings Oliver back to life. But Oliver is no longer who he used to be.
Set in an alternate version of nineteenth century Geneva, This Monstrous Thing is loosely inspired on the real-life Mary Shelley and the publication of Frankenstein. In Ms Lee's re-imagining, Frankenstein is based on Alasdair, who resurrects his brother in an act of desperation. Additionally, there is a tension between the populace of Geneva and the people who have mechanical limbs. They are seen as less than human, abominations, monstrous. If they would find out about Oliver, who is more mechanical than human, they would kill him.
I highly commend the author for integrating the Frankenstein source material in a creative way. While it leans on the same themes of the creation of life and its ethical implications, the book tells its own story, with fresh characters and a different outlook. It tries to tie in with debates on shunning of those seen as less than others. While I thought the underlying societal tensions were well written, I didn't think there was much reason for why exactly the Genevan peoples would hate people with mechanical limbs so much. There were some vague religious connotations, but it needed more motivation to be truly believable that people would act this way. Especially because the surrounding towns never seemed to be so averse to clockwork.
The core of the story of This Monstrous Thing is the tension between Alasdair, his brother, and Dr. Geisler, a scientist obsessed with bringing people back from the dead. I can't say much about the plot, except that it features much running around by Alasdair.
While there were many elements in the story that I enjoyed – including the lack of romance between Alasdair and Clemence, the assistant of Dr. Geisler – in other ways This Monstrous Thing never stood out. While the setting is historical, the language definitely is not. At one point (in my ARC at least), one of the characters responds by saying "No shit.". It features an old broken down castle and Geneva and clockwork, however, the setting never truly came to life. The interactions between Alasdair and Oliver were interesting, but there weren't enough of them to make them profound.
I can't put my finger on anything that is offensively bad in this book, but neither is there anything that truly surprised me in its awesomeness. This Monstrous Thing is a fun read – which can also easily be enjoyed if you haven't read Frankenstein.
In 1818 Geneva, men built with clockwork parts live hidden away from society, cared for only by illegal mechanics called Shadow Boys. Two years ago, Shadow Boy Alasdair Finch's life shattered to bits.

His brother, Oliver—dead.

His sweetheart, Mary—gone.

His chance to break free of Geneva—lost.

Heart-broken and desperate, Alasdair does the unthinkable: He brings Oliver back from the dead.

But putting back together a broken life is more difficult than mending bones and adding clockwork pieces. Oliver returns more monster than man, and Alasdair's horror further damages the already troubled relationship.

Then comes the publication of Frankenstein and the city intensifies its search for Shadow Boys, aiming to discover the real life doctor and his monster. Alasdair finds refuge with his idol, the brilliant Dr. Geisler, who may offer him a way to escape the dangerous present and his guilt-ridden past, but at a horrible price only Oliver can pay…
Other reviews you might be interested in