Review: Splintered by A.G. Howard
Title: Splintered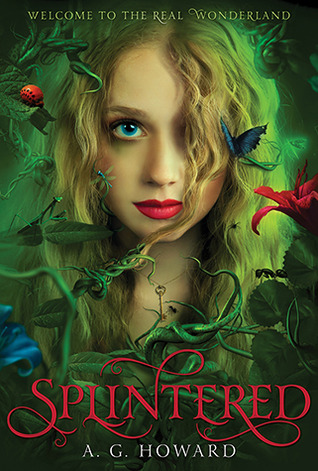 Author: A.G. Howard
Series: Splintered #1
Rating: 2 Stars
371 pages
Published January 15th 2013 by Amulet Books
Bought

Great concept and lovely world, but the story got ruined for me by the annoying love-triangle and even more annoying characters.
Alyssa is the daughter of a mad woman that thinks Wonderland is real. It doesn't help that she's a far descendant of the real Alice Liddell. But her mother might not be as crazy as she seems, and Alyssa soon gets wrapped up in family curses and lost childhood memories.
This book sounds absolutely perfect for me – I'm a great fan of the original Alice in Wonderland, and the cover looks beautiful and the blurb amazing. Splintered was a disappointment though. The Wonderland Ms Howard creates was interesting, but having to see it through Alyssa's eyes was cringe-worthy.
Alyssa is a strange hybrid between a cyberpunk/goth girl and a skater, befriended with Jeb that's a skater too (that wears ribbed tank tops though). We went off on a rocky start, since both Alyssa and Jeb are about the opposite from the "skaters" I know. But once we got past that and the story focusses more about Alyssa's crazy family and her own crazy skills (she hears voices from flowers and insects), I gladly forgot our past differences.
I like the general plot, but I hated how Alyssa runs around like a headless chicken. She never thinks things through. Ever. Yet somehow she never fully connects with the way things work in Wonderland. One of the awesome things about Wonderland for me is that everything is possible – it's an absolutely unreasonable crazy world. It felt as if Alyssa spends the entire book struggling against Wonderland. I was constantly waiting for her to become fully emerged, because her reluctance translated into a reluctance of my own.
The dynamic going on between Alyssa, Jeb and Morpheus (resident Wonderland moth-man bad-boy) is absolutely dreadful. Jeb and Morpheus are constantly bickering over Alyssa, about what she will and won't do, while she just stands by and watches them. What the hell? Grow a pair, girl. You decide for your own, and you should tell them to shut the hell up and demand some answers. Jeb is insanely patronising, and Morpheus is a lying son of a bitch, yet somehow Alyssa luuuurves them both. The romance and Alyssa's indecisiveness grated on my nerves.
I heard the sequel to Splintered, Unhinged is darker, and maybe that's more what I'm looking for. I hope Alyssa grows some common sense in the main while.
This stunning debut captures the grotesque madness of a mystical under-land, as well as a girl's pangs of first love and independence.
Alyssa Gardner hears the whispers of bugs and flowers—precisely the affliction that landed her mother in a mental hospital years before. This family curse stretches back to her ancestor Alice Liddell, the real-life inspiration for Lewis Carroll's Alice's Adventures in Wonderland. Alyssa might be crazy, but she manages to keep it together. For now.
When her mother's mental health takes a turn for the worse, Alyssa learns that what she thought was fiction is based in terrifying reality. The real Wonderland is a place far darker and more twisted than Lewis Carroll ever let on. There, Alyssa must pass a series of tests, including draining an ocean of Alice's tears, waking the slumbering tea party, and subduing a vicious bandersnatch, to fix Alice's mistakes and save her family. She must also decide whom to trust: Jeb, her gorgeous best friend and secret crush, or the sexy but suspicious Morpheus, her guide through Wonderland, who may have dark motives of his own.
Other reviews you might be interested in