Review: Magic Burns by Ilona Andrews
Title: Magic Burns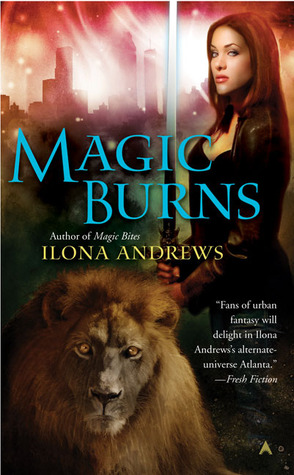 Author: Ilona Andrews
Series: Kate Daniels #2
Rating: 4 Stars
260 pages
Published April 2008 by Penguin
Received as a gift

Well hello there, you fantastic urban fantasy book.
In the world of Kate Daniels, magic and tech alternate. The times between magic and tech are getting shorter though – a flare is coming. During a flare, magic rises dramatically and it seems like some evil beasties are using the flare for their own nefarious purposes. Can Kate stop them before it's too late?
It has been over four years since I last read Magic Bites, the first book in the Kate Daniels series. Needless to say, I was pretty rocky on my lore. Though I apparently completely forgot about the plot of Magic Bites, I could still remember our protagonist and her world very well.
Because of the tech/magic fluctuations, Kate's world is a vaguely apocalyptic one. During a magic wave, skyscrapers crumble, and technology fizzles. Which means that cities turn into these messed up landscapes you usually see in disaster movies. It also means that the most reliable source of transportation is a horse and carriage. Hell yeah. The world has such fabulous details and has great internal coherence. It presents all of these interesting possibilities that Andrews uses to their fullest potential.
Magic Burns is one roller coaster adventure filled with funny, weird, and some downright scary characters. Kate herself is the archetypical urban fantasy chick – down to earth, can hold herself in a fight, slightly snarky. What I love about Kate is that she's a responsible person. Sure, her big mouth might get her into trouble, but she owns up to it. She's not too big of a bitch to apologise when she crosses a line. Unlike some (annoying) urban fantasy heroines, Kate behaves very much like an adult.
A perfect blend of mythology and paranormal, I flew through Magic Burns in two days. I can completely see myself falling in love with these characters and for the Kate Daniels books to fight their way into my favourite series.
Down in Atlanta, tempers – and temperatures – are about to flare…

As a mercenary who cleans up after magic gone wrong, Kate Daniels has seen her share of occupational hazards. Normally, waves of paranormal energy ebb and flow across Atlanta like a tide. But once every seven years, a flare comes, a time when magic runs rampant. Now Kate's going to have to deal with problems on a much bigger scale: a divine one.

When Kate sets out to retrieve a set of stolen maps for the Pack, Atlanta's paramilitary clan of shapeshifters, she quickly realizes much more at stake. During a flare, gods and goddesses can manifest – and battle for power. The stolen maps are only the opening gambit in an epic tug-of-war between two gods hoping for rebirth. And if Kate can't stop the cataclysmic showdown, the city may not survive…
Other reviews you might be interested in
Other books in this series
Magic Bites
Magic Burns
Magic Strikes
Magic Bleeds
Magic Slays
Magic Rises
Magic Breaks
Magic Shifts