Review: Heist Society by Ally Carter
Title: Heist Society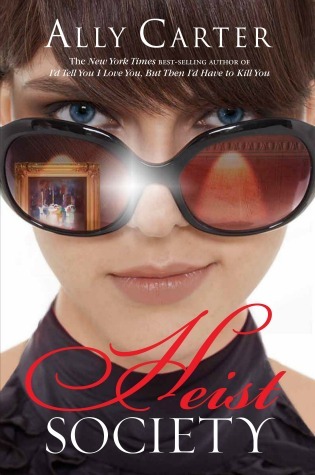 Author: Ally Carter
Series: Heist Society #1
Rating: 3.5 Stars
287 pages
Published February 9th 2010 by Disney-Hyperion
Borrowed from the library

Kat is the offspring of a thieving family, and she's one of the best and youngest thieves in the world. She has decided to step out of the family business and have a sort of regular life, until her father gets suspected of a crime he didn't commit.
Heist Society is like Ocean's Eleven in book form. It doesn't make any logic sense, but it's just so damn cool. Don't we all sometimes wish we had such awesome thieving skills? That we climb through air vents and act all Mission Impossible? Heist Society uses that fascination and provides some good old wish-fulfilling fun.
Ms Carter has an easy and straight to the point writing style. The strength of the book is the plot that runs like well-oiled clockwork. There are no scenes that could have been cut out, or moments that bring the speed down. Days till deadline steadily tick away, heightening excitement. It's so easy to read this book in just one sitting because you really feel like you're moving towards something.
The thieving family provides the usual comic relief and internal struggles. Kat especially struggles with the older generation (her uncle and father), and feels torn between being with her family and having a normal life. There is also some romantic tension going on with billionaire-gone-thief Hale.
My only problem with Heist Society was that the story wasn't memorable for me. Even minutes after finishing, the story started to fade. There was no lasting impression of it at all, even though I really enjoyed myself while reading it. Heist Society is perfect for an afternoon of fun, but I'm not yet fully convinced to love the characters. Maybe the next book, Uncommon Criminals will remedy that.
When Katarina Bishop was three, her parents took her on a trip to the Louvre…to case it. For her seventh birthday, Katarina and her Uncle Eddie traveled to Austria…to steal the crown jewels. When Kat turned fifteen, she planned a con of her own—scamming her way into the best boarding school in the country, determined to leave the family business behind. Unfortunately, leaving "the life" for a normal life proves harder than she'd expected.

Soon, Kat's friend and former co-conspirator, Hale, appears out of nowhere to bring Kat back into the world she tried so hard to escape. But he has a good reason: a powerful mobster has been robbed of his priceless art collection and wants to retrieve it. Only a master thief could have pulled this job, and Kat's father isn't just on the suspect list, he is the list. Caught between Interpol and a far more deadly enemy, Kat's dad needs her help.
For Kat, there is only one solution: track down the paintings and steal them back. So what if it's a spectacularly impossible job? She's got two weeks, a teenage crew, and hopefully just enough talent to pull off the biggest heist in her family's history–and, with any luck, steal her life back along the way.
Other reviews you might be interested in