Review: Doctor Sleep by Stephen King
Title: Doctor Sleep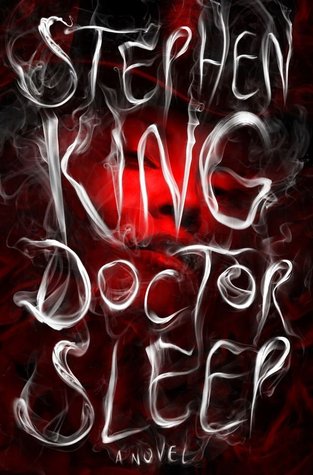 Author: Stephen King
Series: The Shining #2
Rating: 3.5 Stars
568 pages
Published September 24th 2013
Bought

It's impossible not to compare Doctor Sleep with its prequel, The Shining. It makes sense, but in many ways the comparison is unfair. Although The Shining is a static work, the author isn't. It has been over thirty years ago that The Shining has been published, yet it has only been a little over half a year ago since I read it. The Shining is fresh in my mind in the way it's probably not for older Stephen King fans.
Doctor Sleep continues the story of Danny, now Dan. It mainly concentrates on his adult life, and how the happenings in the Overlook hotel have shaped him as a person.
There are two reasons I didn't enjoy Doctor Sleep as much as I hoped to. First of all, I felt like there just wasn't enough of it. Although this book has between 500 and 600 pages, depending on your edition, I wanted more. I wanted more insights into Danny's life as a kid after, and more about his struggles in adult life, and more about him working as a hospice. I wanted to get to know Abra better, to really get to understand her. I wouldn't have minded another hundred pages if they were used to extend our knowledge of our characters.
The second is one that has been mentioned by other reviewers, and that is that the big threat in the book isn't very threatening. There is a club of people called the True Knot that kill kids with the shining to suck it out of them, and they want Abra, a girl with plenty of shining. This part of the book didn't sit well with me – sure, she has a lot of shining, of course you want her – but it didn't click for me. There was no reason why the True would want Abra SO BADLY. On top of that, we as a reader never truly fear for Abra.
In a way, I was disappointed by Doctor Sleep it wasn't what I was expecting or hoping for. On the other hand, it's still a great book, and it doesn't taint the memory of The Shining in any way. I respect that Doctor Sleep cannot be the same as The Shining, because there is no way to top that book. The direction Mr King took is a smart one, and I still enjoyed this book.
On highways across America, a tribe of people called The True Knot travel in search of sustenance. They look harmless—mostly old, lots of polyester, and married to their RVs. But as Dan Torrance knows, and spunky twelve-year-old Abra Stone learns, The True Knot are quasi-immortal, living off the "steam" that children with the "shining" produce when they are slowly tortured to death.

Haunted by the inhabitants of the Overlook Hotel where he spent one horrific childhood year, Dan has been drifting for decades, desperate to shed his father's legacy of despair, alcoholism, and violence. Finally, he settles in a New Hampshire town, an AA community that sustains him, and a job at a nursing home where his remnant "shining" power provides the crucial final comfort to the dying. Aided by a prescient cat, he becomes "Doctor Sleep."
Then Dan meets the evanescent Abra Stone, and it is her spectacular gift, the brightest shining ever seen, that reignites Dan's own demons and summons him to a battle for Abra's soul and survival. This is an epic war between good and evil, a gory, glorious story that will thrill the millions of devoted readers of The Shining and satisfy anyone new to the territory of this icon in the King canon.
Other reviews you might be interested in