Review: Demonglass by Rachel Hawkins
Title: Demonglass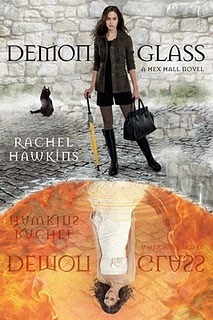 Author: Rachel Hawkins
Series: Hex Hall #2
Rating: 3.5 Stars
359 pages
Published March 22nd 2011 by Disney
Bought

In this sequel to Hex Hall, Sophia must learn to deal with what happened at Hecate Hall, a reform school for Prodigium. Her long estranged father makes an appearance, and he decides a change of decorum is necessary: Sophia is coming to the United Kingdom with him for a few months. However, a certain someone Sophia isn't ready to see has also been spotted overseas…
The second book in a series can often feel like more of the same. Demonglass avoids this common problem by taking the main characters, and forcing them to find their way in an unknown environment. They suddenly have to navigate other people they don't know if they can trust, and it creates a lot of new venues for the plot to go. Demonglass never feels too "same-y" like Hex Hall.
In Demonglass we're introduced to a rather lame love-triangle. I felt it was rather unnecessary – again we're treated to the stereotype that a girl and a boy can't be in the same room together without there being some romantic tension. What made this one even worse for me was that I felt like this love triangle was added for the benefit of the reader, instead of it being the characters true feelings.
Where I found Sophia to be a bit shallow in the first book, she gains more depth in this one. Even though she can be a bit obnoxious and stupid, I thought that she showed more insight into her own feelings, which make her more interesting to read. Her interactions and growing bond between her and her father was very well done, and the strain on her and Jenna's friendship was realistic and genuine. As long as it's not concerning boys, Ms Hawkins actually does characters well.
While I was looking for something like Harry Potter when I started this series, I think the Hex Hall books are actually a lot more like The Mortal Instruments series. It doesn't give me the magical world I was looking for, but it does deliver on an engaging plot navigating a world of different factions and magical beasties.
Sophie Mercer thought she was a witch. That was the whole reason she was sent to Hex Hall, a reform school for delinquent Prodigium (a.k.a. witches, shape-shifters, and faeries). But then she discovered the family secret, and the fact that her hot crush, Archer Cross, is an agent for The Eye, a group bent on wiping Prodigium off the face of the earth.

Turns out, Sophie's a demon, one of only two in the world-the other being her father. What's worse, she has powers that threaten the lives of everyone she loves. Which is precisely why Sophie decides she must go to London for the Removal, a dangerous procedure that will either destroy her powers for good-or kill her.

But once Sophie arrives, she makes a shocking discovery. Her new housemates? They're demons too. Meaning, someone is raising demons in secret, with creepy plans to use their powers, and probably not for good. Meanwhile, The Eye is set on hunting Sophie down, and they're using Archer to do it. But it's not like she has feelings for him anymore. Does she?
Other reviews you might be interested in
Other books in this series
Demonglass
Spell Bound