Page Count Contest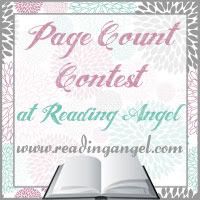 The Page Count Contest hosted by Reading Angel continues! After the success of the April Page Count Contest, the contest is now prolonged. Every week there is a top 20 posted, and a few of the fast readers can win some awesome prizes.
I'm a bit late with making my sign up post, as the submissions for this month are already closed (sorry!), but I just haven't finished a book this month. I'm reading three at a time, and they're all pretty long ones. The Bout of Books readathon starts the 14th, I hope that will be the week I will finally read all those review books.
Here is my tentative to be read list for May:
That would bring my total of read pages this month to 3,500 pages. Last month I did 3,400 so hopefully it will be doable. Let me know if you're participating in the contest too! If not, what is your to read goal this month?
‹ Review: Carrie by Stephen King The Mountain – I Sized It Up ›