Interview: Crista McHugh (Tangled Web)
Another author interview today (I'm on a roll!), this time featuring Crista McHugh, writer of the novel Tangled Web. If, like me, you think her book sounds great, you can find her book on Goodreads and Amazon. This post is part of a blog tour hosted by Entangled Publishing.
Nyx Book Reviews: Hi Crista, welcome to Nyx Book Reviews! Could you tell us a bit more about yourself?
Crista: In real life, I'm a doctor and a mother of 2 small children (which may explain some of my insanity). I refer to writing as "therapy". In the past, I've some odd jobs like being a morgue attendant and autopsy assistant. I've also been a contestant on Jeopardy
Could you describe your book, Tangled Web, in one sentence?
The deadliest assassin in the empire finds herself caught in a tangled web of lust, lies, and politics and is faced with the dilemma of killing the man she loves or placing both their lives in danger.
What makes Tangled Web stand out from the crowd? What makes it special?
There's no disco ball vampires or improperly used kitchen utensils? Seriously, though, it's a book with two very intense characters who have to face difficult odds to find their happily ever after, set in a world that's different from the everyday. Yes, it's vague, but I do truly think it's the characters that readers will either love or hate, depending on what buttons they push. Oh, and there's some really hot scenes between them, too. 😉
Do you have a certain writing routine?
I never sit down to write a story until I have it completely plotted out. I like to weave in little details throughout the story, so I need to know where to put them. Once I have my "outline" (which usually runs about 30-40 type pages), I sit down and fill in the gaps. I need complete silence, so thankfully, I have an office I can retreat to when I need to get in the zone.
What do you like best about being a writer?
I love creating stories and characters that resonate with readers. Whenever I get an email from a reader telling me how much they enjoyed a story, then I know all the hours I spent on it were worth it.
Thanks for answering my questions! (:
Thank you for having me!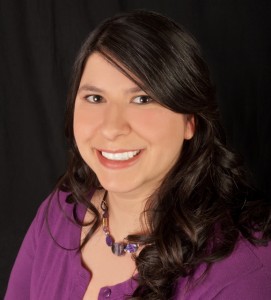 Growing up in small town Alabama, I relied on story-telling as a natural way for me to pass the time and keep my two younger sisters entertained.
I currently live in the Audi-filled suburbs of Seattle with my husband and daughter, maintaining my alter ego of mild-mannered physician by day while I continue to pursue writing on nights and weekends.
I am an active member of the Romance Writers of America (including the FF&P , Greater Seattle Chapter, ESPAN, Passionate Ink, and the Seattle Eastside Chapters), Absolute Write, and Romance Divas.
Just for laughs, here are some of the jobs I've had in the past to pay the bills: barista, bartender, sommelier, stagehand, actress, morgue attendant, and autopsy assistant.
And I'm also a recovering LARPer. (I blame it on my crazy college days)
For the latest updates and answers to any burning questions you have, please check out my blog.
‹ Spooktacular Paranormal Reading Challenge: Sign Up Review: Lucretia and the Kroons by Victor LaValle ›