Graphic Novel Review: Locke and Key Volume 1. – Welcome to Lovecraft by Joe Hill
Title: Welcome to Lovecraft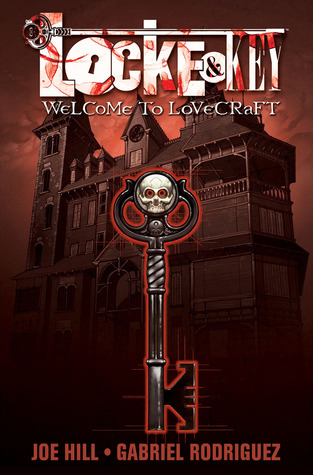 Author: Joe Hill
Series: Locke and Key Vol. 1 (#1-6)
Rating: 4 Stars
97 pages
Published December 9th 2014 by Boom! Studios
Bought

Summary: When their father gets shot down, Tyler, Kinsey and Bode move to Lovecraft with their mother. But in the house not everything is as it seems, and powerful enemies lurk in the shadows.
What I liked:
The narration of Welcome to Lovecraft was fantastic. Built from six chapters, the different chapters have different points of view, each of them unique and adding a new perspective to the story. It's the best I've seen in a graphic novel so far
It's creepy! Although we don't get into real scare territory, there are some pretty nail-biting moments in this book
All three of the kids and their mom as well have their own personalities, and it's great finding out about them in the course of the story
The plot unfolds in a steady manner that answers questions from earlier in the book, but also opens the door to many new ones that will get answered in the next instalments
Especially the first chapter of the book is heartbreaking. You really feel for these characters
What I didn't like:
The drawing style didn't always agree with me. I prefer cleaner lines rather than this almost caricature style of human faces
I wish we would see more of the house. I feel like so much of it is still unexplored
The beginning of the book was extremely strong, but I don't feel like the ending lived up to that. The climax was great, but the aftermath was a bit lifeless and only seemed meant to kick-start the second volume
Verdict: Great first volume in the Locke and Key series, with amazing narration and a refreshing cast of characters. My bar is very high now for the second book in the series.
Locke & Key tells of Keyhouse, an unlikely New England mansion, with fantastic doors that transform all who dare to walk through them. Home to a hate-filled and relentless creature that will not rest until it forces open the most terrible door of them all…