Fire and Ice Tour: Cinder by Marissa Meyer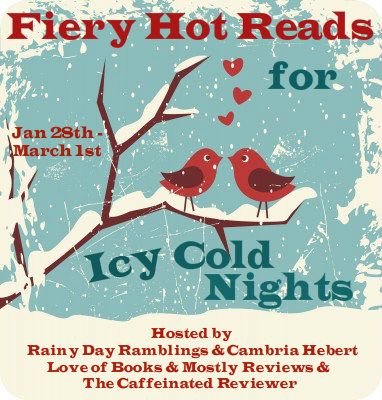 Welcome to the Fiery Hot Reads for Icy Cold Nights blog hop! This wonderful hop featuring romance books ranging from sweet to spicy (family friendly though) is hosted by Rainy Day Ramblings, Cambria Hebert, Love of Books, Mostly Reviews and The Caffeinated Reviewer. Every blog will also give away a copy of the book they're featuring, so make sure to check out all the other blogs participating.
Amazon Kindle & Paperback – Book Depository – Goodreads
My feature of today is Cinder by Marissa Meyer. Cinder was one of my absolute faves of last year – it takes such an innovative twist on the Cinderella story. The main character Cinder is a cyborg, something I thought would be lame and boring, but turned out to be absolutely awesome. She's actually quite easily to relate to, and her connection with prince Kai is wonderful. I loved everything about this book (except the cliffhanger – ARGH!), and I can't wait to read the second part in the Lunar Chronicles. Read more >
I'm giving away a paperback copy of Cinder (which has a page thanking all the bloggers that helped Cinder's popularity – AND MY BLOG IS IN THERE :D) to one person that lives in a country where The Book Depository ships. To enter, just fill in the Rafflecopter below.
‹ Review Copy Cleanup 2013: Sign Up Interview: Stefan Bachmann (The Peculiar) ›